Hello Friends,
We hope this finds you well and enjoying the first signs of autumn. We have some exciting news to share with you: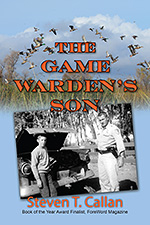 The Sequel Has Landed –The Game Warden's Son , scheduled for release by Coffeetown Press on March 1, is now available for pre-order on Amazon.
What's the sequel about? We think the back-cover description sums it up nicely:
Retired game warden Steven T. Callan's love of nature and passion for protecting wildlife took root long before he experienced the adventures described in his memoir, Badges, Bears, and Eagles. In The Game Warden's Son, he recounts more of his own investigations, along with those of his game warden father and their colleagues. Intertwined with a half century of adventures and investigations is a story of the lifelong relationship between a boy and his father.
The book begins in the 1950s in the canyons and on the beaches of San Diego with incidents that sparked Steven's youthful imagination. After an idyllic boyhood in the Northern Sacramento Valley farm town of Orland, where he rode on patrol with his father, Steven became a game warden himself in the early '70s, joining the desert rats who patrolled the California counties banking the Colorado River.
With wry humor, Callan tells how he and his fellow officers outwitted the perpetrators—most of them crafty, some of them hilariously foolish—who poached deer, lobsters, and abalone, baited bears and sold their parts, shot wild ducks to supply restaurants, and killed songbirds for epicurean dinner tables. Their cases took them across the Channel Islands, through the back alleys of San Francisco, up the Sacramento Valley, into the Sierras, and along California's pristine North Coast. While these dedicated wardens saw their share of greed, they also appreciated the many hunters and fishermen who obeyed the laws and respected the earth's resources.
In the end, it was all about protecting California's natural resources for future generations, which is what Callan and company did, enjoying themselves every step of the way.
Steve's Blog Has Moved – Check out Steve's blog, now at steventcallan.com, for previews of his sequel, his award-winning monthly outdoor column, and book news and events.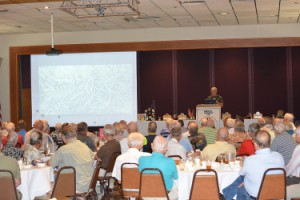 Upcoming Events *
Friday, April 29 – The Fly Shop – Book Signing (10:00 a.m.–4:00 p.m.)
*The 2016 book tour promises to be a busy one! Check Steve's "Events" page for updates.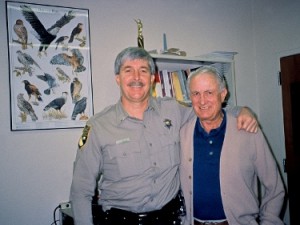 More Writing News
New Stories – We invite you to visit Steve's blog, where you'll find these recent posts from Steve's award-winning monthly outdoor column:
Monthly column – Drop by Steve's monthly "On Patrol" column in MyOutdoorBuddy.com.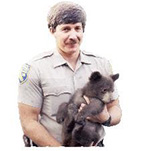 Thank you so much for your kind words and continued support. They mean so much to us.
We'd love to see you out on the tour!
With gratitude,
Kathy and Steve