Retired California Game Warden
Website & Blog
Providing information and links for retired California Game Wardens
wishing to stay in touch with fellow retirees
"Thin Green Line"

No more comments on the website. Too many spam comments. Please contact me directly if you have a comment or question. 
Mike Maschmeier, retired game warden, has just published his first book. An American Possibility. It is available on Amazon as a paperback, hard cover or for your Kindle. Mike has also published several stories in the Spring and Summer issues of International Game Warden Magazine, including a book review. He'll be a featured author in the winter issue of the Humboldt County Historical Society Magazine.
As Mike says, "I've written and published a memoir (Outskirts Press), AN AMERICAN POSSIBILITY which has as a large part of it, stories about my time as a game warden."
I don't know about you, but I always enjoy finding a new book by a fellow game warden. After 30 years on the job as a warden, I love reading other game warden's stories.
My love started with "Tales of the Fish Patrol" by Jack London, and continues to this day.
Go back to my "Authors" page for more links to other stories by and about game wardens.

Do you realize that it has been 150 years since the creation of the Fish Commission, the forerunner of the Department of Fish and Game and later the Department of Fish and Wildlife went to work protecting the fisheries resources of the State of California. That's right. One of the first things the new commission did was to hire and deputize it's first two assistant fish commissioners to help protect those resources. Captain E. Wakeman in San Francisco and George Haswell at Lake Tahoe.
To commemorate that humble start, the Department of Fish and Wildlife's enforcement division is issuing a commemorative 150 year badge. These badges will be authorized for used by our current wardens as well as to us retirees. If you would like to be able to purchase one of these badges, please let me know.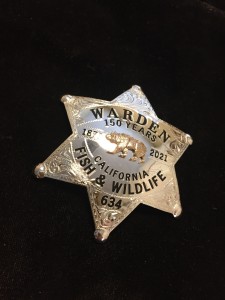 I will be sending out an email to all of the retired wardens on the day after Christmas telling you how to order. Of course, Ed Jones & Company, who has made our badges forever will be making these badges as well. Once they receive your request, they will verify your status as a retired warden with the Department before your badge is made. These will be sterling silver badges with your actual warden badge number on the badge. Hopefully you remember your badge number. All will use the classification of "Warden" not any other rank that you have held.
Since they will be sterling silver and hand done in a very small lot, they are not cheap. Total cost, including shipping, will be $337.28. Although I sent the flyer to the retired wardens for whom I have email addresses, I don't have them all. If you are interested in one of these badges, please contact me or contact Elisabeth Rusca at The Ed Jones Company, 2834 8th Street
Berkeley, CA 94710.  (510)704-0704 Ext. 201

As many of you know, wardens don't stop enjoying the outdoors when they retire. Below are a couple of photos submitted by Bob Orange, Jr.
Here is Bob's version of the story.  A couple of weeks ago Jake Bushey, Jerry Karnow, Chris Lewis and myself went snowmobiling to Bushey's cabin at Medicine Lake. It is a annual event where I bring my four sleds up for the ride. Here are a couple of photos of us. Please note that Jake's cabin is a two story A-frame and the door we are standing at is on the second story allowing us to step directly into the cabin without having to dig out the first story door. Estimated the snow depth at around 13 feet; it had been up to 20′. To explain- the camera taking the photo was on a timer set on one of our snowmobiles. Jake was running back as fast as he could to be back with us for the group photo. As you can see he crashed & burned in one photo and the other one he finally made it back in time to wave at the camera. My altimeter on my snowmobile showed the elevation of his cabin at 7,090 feet. Thanks! Bob
Thanks to Retired Deputy Chief Doug Huckins for these two photos.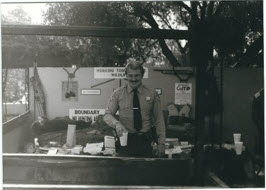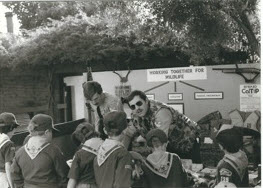 November, 1982 Scout-O-Rama at Mission Plaza in San Luis Obispo.
Warden Jim Barton (who had transferred to DFG from CHP a year or two prior) and Reserve Wardens Dean Hileman and Doug Huckins designed and staffed the booth
I received this photo from Retired Warden Mitch Hawthorn. Obviously still a crack shot with the shotgun.
U.S. Police and Fire Championships Redlands Ca. 2016.
Gold metal Singles trap and Bronze metal handicap trap.
All of you who follow this blog, know that we lost a few retired wardens over the past few months, October 2015-January 2016. One of our retirees, who is still with us, wrote a nice piece about Ray Nilsson. You may want to have a look. Here is the link to his blog site: http://padhorski.blogspot.com/
Every once and a while I get a note from someone who wants to know how to become a game warden. I generally advise them to check the DFG website (sorry the DFW website) and click on the Enforcement link. There are other info sources available, since not all inquires are for CA wardens, I want to post another useful link here.
I added several new photos to the photos page as well as the history page.
Here are a couple for you to review and guess some names.
Let me know if you know them.
Here is your clue, 1975 brand new lieutenants.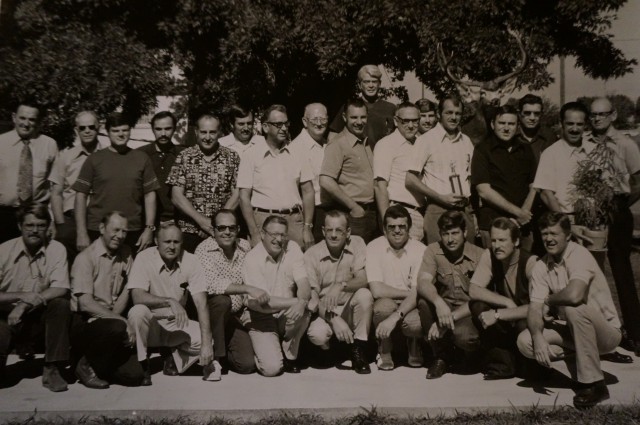 Here are my clues: LL, BH, GB, DD, CM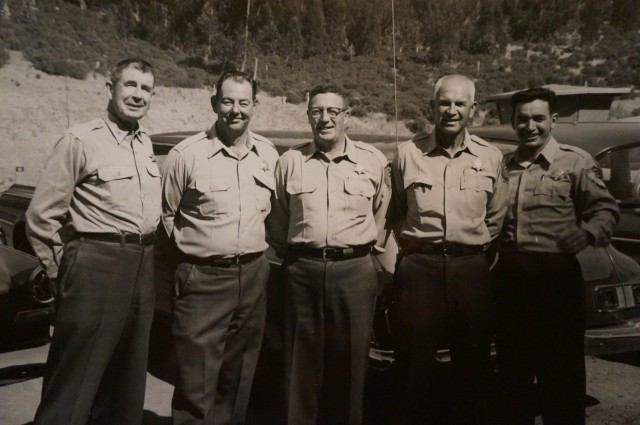 I think I know all of their names except the last one on the top right next to Mike Wolter. I did receive a note from Jerry Collins who identified the warden as Dennis Rankin. Thanks Jerry.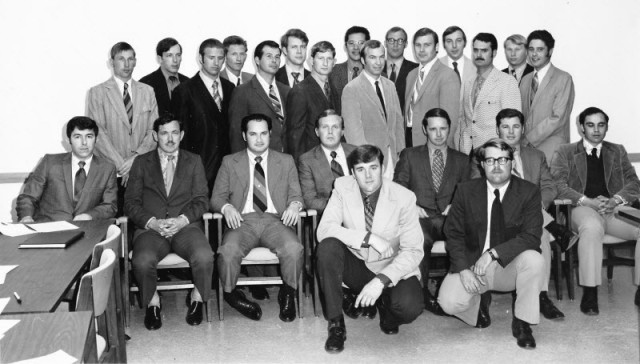 Annual Warden Reunion & BBQ coming up on May 30, 2015 We had a great time at this
years Annual Warden Reunion. Had a nice turnout. Check out the photos on the Photos
page. It was a great pleasure to visit with Gil Bert, who started to work for DFG the year
that I was born, and that was quite few years ago.
I especially appreciate that Gill Berg, Ron Perrault, Doug Buchanan and Will Bishop
brought photos for me to add to history pages on our website. If you have not looked at the
Warden's History page yet, you need to have a look.

Bad Email Addresses: Every time I send out a notice, I get returns as email boxes are too
full or the Warden has changed email addresses and not notified me.  Here is a list of
those emails that have been returned recently. If you are in contact with them, please have
them touch bases with me so that I can update their email address.
Tom Harmon, Daryll Yount, Jake Bushey, Larry Parkinson, Bill Bakker,


Game Wardens as Authors
I don't know about you, but I love to read Game Warden Stories.
I started reading game warden stories with The Tales of the Fish Patrol by Jack London.
Then I read everyone of Terry Hodges' books. After that I searched for more authors.
I found game warden stories from Jim Wictum, Terry Grosz, CJ Box and Kirk Russell
among a few others.
I even read Park Ranger stories from Nevada Barr.
See more authors on the Authors Page.

Check out this video about what wardens do!
What Wardens Do: Marijuana Eradication

Updated info on Medicare.
Don't forget to file a few months before you hit age 65. In fact, you must have everything in
place before the first day of the month that you turn 65. If you have any insights from your
experience that is worth passing on to your fellow retirees, please shoot me an email at
jackedwards@surewest.net or add it to the blog.

This Website is a Provided and Funded by Jack & Tracey Edwards
Jack & Tracey Edwards
Retired DFG Elk Grove, Ca
916-240-9302